Today's protagonist is Guider 3!
Guider 3 Plus 3D printer that was released 2 months ago is the one aiming at rapid prototyping, meeting maker's needs in efficiency and delicate surface quality for creating large-scale figures and construction models. To supplement this product series, Flashforge now brings forth a new printer type - Guider 3. It's designed with a lightweight and compact body and fit for batch production application.
▲Guider 3 used for batch production
Small-scale production, faster delivery
To meet demands on small-batch production and individualized production, fast print and fast delivery become the competitive advantage. The market shows unpredictable and altering demands of customized products in a short run. For small enterprises and personal studios with limited budgets and confined venues and manufacturing equipment, powerful professional-use 3D printers help a lot in improving production efficacy. Guider 3 is such an effective solution that produces faster and operates easily.
Guider 3 3D printer ensures high-speed printing. At a speed of 100-250mm/s, one Guider 3 3D printer device saves your time by 30%-50%; for small batch printing, it shortens delivery time from several days to one day, real fast production.
Comprehensive management system of Guider 3 3D printer simplifies operations during the production process, reducing staffing costs.
Multi Guider 3 3D printers can be managed integratedly in one computer.
Resuming print from the point it stopped last time when electricity power recovers.
Open filament system of Guider 3 3D printer makes it compatible with multiple types of filaments, hence wider production selection.
7*24 hours of stable and continuous printing.
Lightweight and compact body structure
To be easier to move, to do maintenance, and to serve in variable environments, Guider 3 3D printer makes advances in its body structure design, making it a lightweight and compact machine conveniently used at personal workshops, school rooms, and small businesses.
New structure of Guider 3 better utilizes the internal space, expanding printing volume while confining the whole device size. With decreased occupation area, makers can flexibly assemble their production lines.
Frame structure of Guider 3 is made of aluminum, machine shell made of lightweight durable ABS and acrylic sheets. It loses much machine weight while ensuring stable print.
Compared with the Guider 2S, Guider 3 machine weight is reduced by 10% but printing space is increased by 21%.
More advanced features of Guider 3
Feature 1: Two build plate options
▲Guider 3 build plate options
Makers can make a selection from these two build plates according to their filament types to be used.
- Glass plate: smooth and flat surface, easy to take off models.
- Flexible magnetic plate: Can be bent slightly so as to upwarp the models.
Feature 2: Upgraded leveling system
Auxiliary & automatic leveling of Guider 3 ensures accurate calibration. Guider 3 uses a highly sensitive inductive proximity sensor to detect and save the flatness data of the platform level in initial status. During the printing process it keeps automatic leveling all along by engaging Z-axis intelligent compensation function.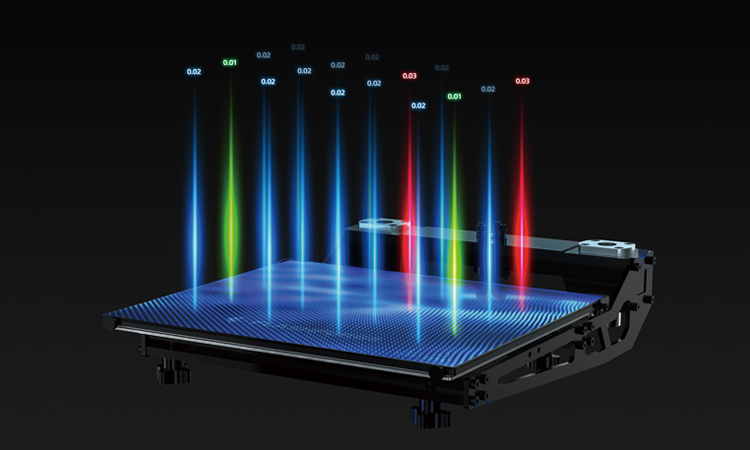 ▲Guider 3 of smart leveling
Feature 3: Powerful extruder
Extrusion nozzle structure of Guider 3 3D printer uses double gears and filament wire feeding force increases by 150%.
- Supporting a various kinds of 3D filaments.
- Reducing nozzle clogging issues.
- Quickly-release nozzle that is easy to replace and maintain.
- Support filaments of different thread diameters.
▲Guide 3 3D printer's extruder
Feature 4: Maintenance manager built in
The maintenance manager system is build inside the Guider 3, providing solutions to common maintenance problems.
▲Easy maintenance of Guider 3
Flashforge layouts in professional use of 3D printing
Flashforge, as a 3D printing technology solution provider that has been established over 10 years, is rooting into professional and industrial applications of 3D printing technology. Last year Flashforge promoted Creator 4, an industry-level FDM 3D printer equipped with Max. 65℃ chamber temperature, 1 + 3 modulized extruders, and open filament system, that able to make tool fixtures aiding manufacturing and make functional parts. This year, Flashforge launched Guider 3 series products. Guider 3 Plus is for large-scale model printing and fast prototyping, good for making cultural building miniatures and large busts and figures. Guider 3, the immediately to-launch professional 3D printer is to meet small-batch production demands from small enterprises and institutions. Guide 3 plus or Guider 3, they both features high-speed print and shortened delivery time.
Flashforge Company is seeking its way to offering economical production mode as an aid for traditional industrial manufacturing. With continuous endeavor, Flashforge would provide more professional 3D printers to meet the needs of different users in different practical applications.