3D printers have made differences on photography in more ways than one. With good usability of 3D design software and 3D printers, photographers can create their own artistic scenes and take those visions to life like never before. Let's follow Flashforge to explore how 3D printers are useful for photography through the experience of one Elton who has found a new outlet for his creativity!
Brief introduction to the hero of the article
Name: Elton Binda
Country: Brazil
Career: University professor
Profession: Photograph & Graphic Design
Others: Loving 3D designing and 3D printing
3D printer helps unleash Elton's creativity in photography
Elton has always been passionate about photography. "When I started teaching the subject at university, it became more than a passion. It became my job." Said Elton. Whereas after almost 10 years in the career as a graphic designer, Elton was looking for something that could let his creativity flow outside of paid work.
Things began when Elton started with photos of action figures. Clients proposed their demands, but Elton often felt the desire to do something of his own without any interference from clients. As things grew Elton started to seek new possibilities for scenarios and recreate his own ideas. 3D printing is just the way to realize that. With a 3D printer, Elton was able to make his ideas become true objects. With those 3D printed objects he could build his own scenarios for photography.
3D printer is a way to practice 3D modeling
The creation of 3D printing projects is based on the photos Elton want to take. He jots down the ideas and starts planning which scenery pieces he need for the final photography. Rather than downloading ready-made object models online, Elton created his own 3D models and used 3D printers as a way to practice and test those models.
3D modeling has always fascinated me and I don't use ready-made models from the internet; all my 3D models are modeled by myself in 3D Studio Max software (some receive detailing in Zbrush software). 3D printing is a way to practice 3D modeling and get physical pieces for the scenarios. 3D modeling and 3D printing would complement what I wanted to do with photography." Elton said so.
Elton's introduction to his photographic scenarios
Below was told from Elton's first person perspective. Let's follow Elton's narration to sense the charm of his scenario works and by the way to get a glimpse on how Flashforge Finder 3D printer was useful and how the 3D printed accessories are applied in Elton's artistic photographs.
1. Street building diorama
Putting the diorama first here was not by chance. It is the project that I like the most and the one I feel most fulfilled in having done.
I can't tell you how long I've been thinking about making a diorama, seriously. Ever since I started taking pictures with the figures, I had a crazy desire to have one, even if it was just a simple little wall, to compose my scenarios. Two months ago, after trying a lot to order dioramas and not succeed, I decided to make my own and I can say, without a shadow of a doubt, that I've never felt so accomplished with my work.
All modelling was done in 3D Studio Max and all 3D printing on the Flashforge Finder 3D printer. The Flashforge Finder 3D printer prints in a maximum area of 14cm x 14cm, so I planned the entire 3D models in parts as to fit the build area of Finder. This street building photography diorama is my 100% innovative work, from the conception of the idea, 3D modeling, to 3D printing and painting.
2. Dragon Ball characters in a gym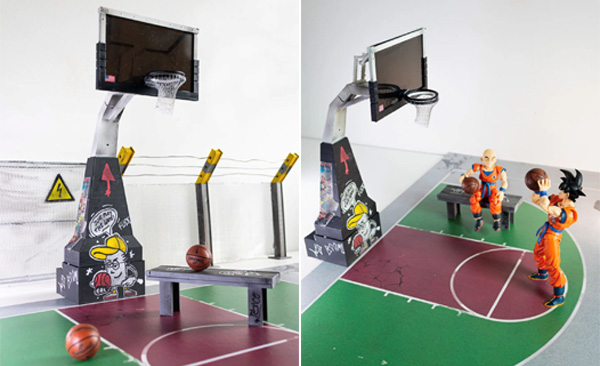 The choice to make a gym corner was thought of in the possibility of assemblies so that, if I printed another one, I could take good photos. Then I thought, "How cool would it be to take some photos with Dragon Ball characters in a gym?" From there, I start planning the gym diorama in which Dragon Ball figurine accessories would be cool to compose the photos. I put the ideas into practice, do the modeling in 3D software, printing character models with my 3D printer, painting them, and finishing it with stickers that I produce in Adobe Photoshop and Illustrator software.
3. Bathroom scene project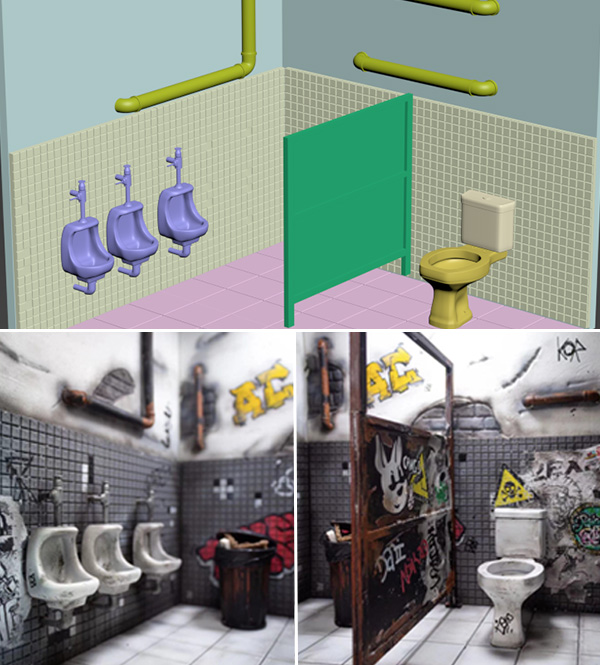 The bathroom scene project was funny to think about. At first, I wanted to make a bathroom scene to take funny pictures with the heroes. Along the course, I found some images of graffiti bathrooms that caught my interest, so I changed the project and started thinking about how to make a bathroom more urban, like make it with graffiti and tags.
In the bathroom, the entire floor was 3D printed on the 3D printer and glued on top of a foam board making it thicker and firmer. On the walls, the smaller squares were 3D printed, and everything else was printed as well, including the toilets and urinals, which were printed on a resin printer because they are more rounded pieces.
4. Urban set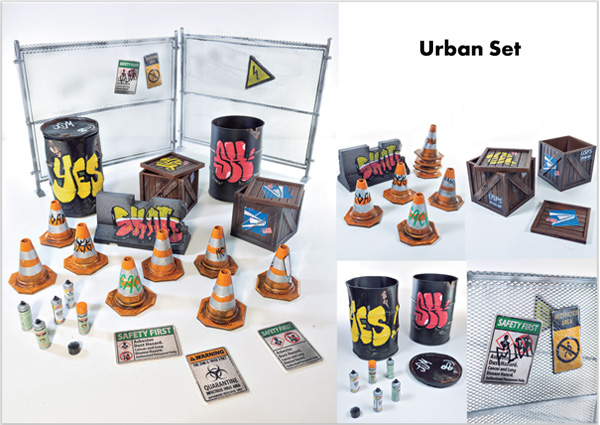 The idea of the Urban Set is a bit different; the pieces are designed to complement other scenes. All of them were modeled and 3D printed, working as pieces that fit into any diorama, complementing the scenes and photographs I had in mind.
5. Photo of the Mandalorian band
I wanted to take a photo using the Star Wars Mandalorian characters forming a band. I had a drum set and a guitar, but I didn't have the speakers and microphone, so I modeled them in 3D software and 3D printed them on my 3D printer. From that image, another one emerged where I staged the band formation. Also, this photo showcases a lot of skills with the Photoshop software.
Flashforge writing in the end
Flashforge team was quite happy to have Elton Binda - the handsome Brazilian professor from Vale do Rio Doce University (Univale) - as their interviewee, telling his experience of creating fantastic photography scenarios with the use of 3D printers.
Also, Flashforge was quite happy when receiving Elton's approval to Flashforge 3D printers. How 3D printers are useful for photography? Elton said "Much convenience my 3D printer provides me, from the ease of leveling to sending the file for 3D printing, to the intuitive way of feeding the filament. Everything is very practical and simple. For those who have a busy life like mine, it helps a lot because no time is wasted on unnecessary 3D print adjustments."(People who are interested in Finder or other modes of Flashforge 3D printers, welcome to Flashforgeshop).
Now, Elton is going on a new diorama project that will have all the pieces 3D printed on his 3D printers, but with a new look. Looking forward to see more fantastic photographs from him!
People who read this article also interest in:
How are 3D printers useful in STEM education?
Can you make money with 3D printers?
How did I start using 3D printer for miniatures?
Step by step to teach you how to make 3D printed slug
What useful stuff you've made with your 3D printer?