"In June 2019, my horse, my best friend after 11 years of friendship, died. It was he that had brought me back from not wanting to be alive after a severe accident in which I got paralysed from neck down and ended up living in a wheelchair with mobility problems and severe pain. My white lovely boy died. I buried his tail hairs in the garden and needed a statue for him on this place. I surfed on the internet where I could get a STL 3D model file, a digital statue of a white horse looking exactly like him, but I needed a 3d printer to print it", said Annie Moberg.
This is how Annie Moberg's 3D printing adventure started."It is really a good replica of how my friend looked even though it is not him sculpted. I really started to love 3D printing as an art medium."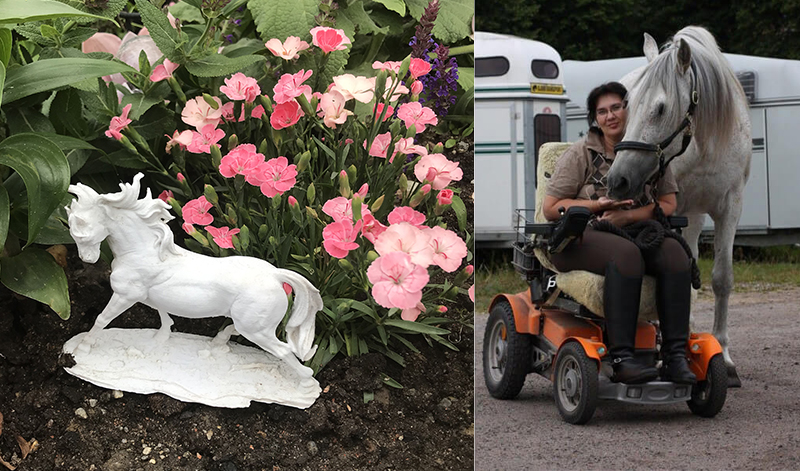 ▲Annie and her white lovely boy
Annie Moberg is a fantastic artist who after encountering the accident 16 years ago has encouraged herself up and found the meaning of life again from art design, 3D printing, and painting. She exhibited a breathtaking diorama on The Lord of the Rings (LOTR) recently. Before that, she put out the Harry Potter display in December 2020. She is now preparing for the A Song of Ice and Fire diorama.
Annie used Flashforge Guider 2S 3D printers, Flashforge Creator 3, Flashforge Adventurer 4, and Flashforge Foto 8.9 to print figurines and scenes from famous fantasy novels like LOTR by author J. R. R. Tolkien and A Song of Ice and Fire by author George R. R., airbrushed and decorated those models, and finally created impressive miniatures exhibiting in Sweden. Let's see some of her fantastic 3D art works!
▲Drogon in Game of Thrones
▲Figurines and miniatures
Conversations between Annie Moberg and Flashforge
The talented lady loves Flashforge 3D printers so much and has built good relationship with Flashforge team. She is invited by Flashforge to share stunning scenes and 3D printing process of Flashforge new products on YouTube, Instagram, and Facebook. Days ago, Flashforge launched a conversion with Annie Moberg regarding her 3D printing experience.
1. For so many figurines/statues shown on your exhibition, where did you get the digital 3D models?
I have spent a small fortune buying all those files. I only buy top-notch STL files and the printing goes well on. A lot of them are from gambody.com, and some smaller partisans are from myminifactory.com. I also have signed up sites where I buy STL files from as a patreon.
2. To print those models, what brands of 3D printers have you chosen and why did you finally decide to use Flashforge 3D printers?
I have used two Flashforge Creator 3, two Flashforge guider2s, one Flashforge Finder, and one Anycubic Mono X for resin work. My first printer was a Flashforge Finder. It printed well but small. I directly wanted a bigger build space and bought 2 units of Creality CR 10s. But there appeared shift or layer lines in the print, and I had to relevel the build plate after almost every print. I could not do that owing to my back pain. So I sold the Crealitys for getting my first Flashforge Guider 2s. I am now here with 5 FDM Flashforge printers and 1 Flashforge Foto 8.9 resin 3D printer.
▲Annie's Flashforge 3D printers
3. Did you ever meet printing troubles, like using slicing software, printing process, and so on?
Well I started out with my Finder and FlashPrint and I did understand it right away, but it was a small machine and my dreams were big. So I tried to buy 2 Crealitys. Man, due to my dyslexia, I had hyper hard understand Cura, and then everyone said "use Prusaslicer". I did but still did not get it. And then I bought Simplify3D. With it, I did start up printing but I had to relevel every day and always do emergency fixing. After just 2 month with them I said "No, I can't do this. I want it to be like the Flashforge Finder but bigger one."
Two months after that, my shiny brand new Flashforge Guider 2s was on my workbench. Finally I could work with not much trouble and I promptly bought one more Guider2s. Once having a bit of problem with firmware, I talked to Flashforge after sales for help. The after-sale team really helped me a lot. Besides, I am really enjoying the Flashforge official Facebook group. Sometimes I have something to ask about and sometime I can help someone else in the group. This is really nice.
4. We know that after model printing, you need to airbrush the prints and/or make other decorations. Could you talk something about the process of airbrushing and decorating?
I do paint 97% of my prints, and I prefer airbrushing. If one use a filament that feel a tad greasy in touch, one have to wash it with some dish soap and wait it dry. To deal with that, I use primer, the vallejo system, which bites good on print surface. About 10 hours after primer biting into the plastic prints, real painting begins.
I start with the darker areas, using a range of colours building shades, dark shadow, and bright highlights. Sometimes the reflections have flaws or imperfection in the colours, which are what I struggle to overcome in future. For the prints going to be shown outside, I spray a finish layer with my airbrush as well using a varnish that is bearable to all weathers.
I do like to put thing in a diorama, with foliage, flowers, etc. So, after well painting the prints, I make hand decorations on them. My Hobbit House Bonsai Tree Miniature is a good display of that.
▲Hobbit House Bonsai Tree Pot
5. Do you think 3D printing is helpful for you and how?
3D printing and designing bring me joy. I am not working since my disability; 3D printing is my way of rehabilitation. I love my Flashforge machines and I do not sell my art work. I do hope to inspire visitors of the diorama and fellow 3d printers to enjoy fun of life. Also, I hope to help kids like myself with body issues to find the way of persistence and never give up.
Write in the end
Flashforge team is glad to have Annie as their warm friend and as their product spokesperson. Annie's story is impressive and the power of 3D printing technology is striking. Flashforge is dedicated to developing more advanced 3D printers that are easy to use while with cost-effective price, helping more artists who use 3D print on their art working like Annie. People who like 3D printing and loving sharing printing funs and gains are warmly welcome to approach Flashforge!